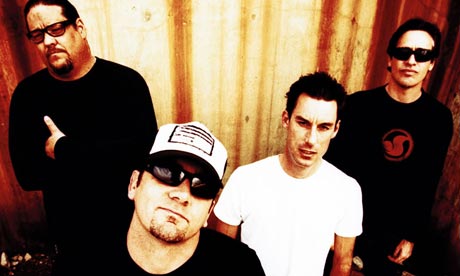 If you've seen the X games, watched a surf/skate/snowboard/moto cross video, or been around anything having to do with "action sports", then you've probably heard Pennywise somewhere in the background. The Hermosa Beach based punk rock band has been a staple of being associated with the "hardcore lifestyle" for the past twenty years. Their recent releases have been a bit more mellow, but are still distinctly their own. They have, as all bands have, aged a bit. Not to say their music of late has lost its edge, but it's not the Pennywise of '89.
Many people would use the phrase "sell out". Nothing could be further from the truth. Although Pennywise has become more aware of the political landscapes and the truths of the world, they have stayed the same course. The frenetic pace might be a bit slower, but it still rings true. Many bands claim to do it for the fans, well, Pennywise's word is bond; offering their last album for free on myspace. The 3 band lineup, Authority Zero, Strung out, and Pennywise was offered for $16.50.
I have seen about 6-10 Pennywise shows, including Warped Tours, and I have never been disappointed., always experiencing an excellent show. I was very excited when this date was announced, but as it got closer, there was some trepidation. The past couple Pennywise offerings have been good, with a few songs to my liking. I still visualize(if you can visualize music) Pennywise in Full Circle/About Time album modes. Not that I am opposed to slower rock bands, it's just not what I want from Pennywise.
Driving to Orlando, I mentally ran down what I thought the set list would be: open with 2 older songs, then play a chunk of 3-5 new songs, back to an old standby, 3-5 more new songs, throw in 1-2 more oldies, then end in "Bro hymn", as they always do. Were that to happen, I would be perfectly satisfied with my expenditure of time and money to go to Orlando to see a band that I am a huge fan of. I was going to pony up my $16.50 and watch these guys do a victory lap, and thank them for all the memories.
I can't remember when I've been more wrong.
To describe my Pennywise experience succinctly: It was like being attacked by a 50 foot yeti made of fire and cholera, and that yeti is well versed in martial arts.
A few of the highlights: The crowd of about 1500 chanting "Fuck Authority", in unison, middle fingers in the air; the band asking the crowd what songs they wanted to hear, and then actually playing those songs. They played "My own country", a request, prefacing it with: "We haven't played this in 5 years, so if we fuck it up …. ", and then they nailed it. The crowd rapport was great, as well:
Jim (singer) "I haven't drank this whole tour, but tonight, I'm getting fucked up with you, Orlando"
Crowd: "yeeeaahhhhhhhhhhhh!!!!!!!!!!!!!!!!!!!!!!", beers in the air.
Fletcher (guitar) "It's the second show of the tour"
Much of the show was a blur, not because of the Budweiser, but due to the fact that I was truly ecstatic, all the songs ran together, in a sonic wall of unadulterated joy. It all ended with the song "Bro hymn", a song about a fallen friend that everyone can identify with. I guarantee if you hear that song one time, it will stick with you forever. The baseline, the chorus, is perfect in the context of the song. It is an unforgettable track, and to hear 1500 people singing " …. If you die, I die; that's the way it is", will definitely make an impact on you. The rise and fall of the chorus is haunting, to say the least, and the listener bobs about on a sea of whoa's.
The show was awesome, not in the fact that I was given a political message or was wowed by musical prowess; because that wasn't the case. Pennywise did exactly what all of the 1500 people wanted: they came in and rocked 1500 people's faces off. Jim, Fletcher, and the boys played the songs that got the crowd going, that got the pit stirred up like a downed hornet's nest, and made me hoarse from yelling. They were the Pennywise I remembered, not 35-40 year old guys that I thought were playing a final farewell before heading it in. And it was glorious.